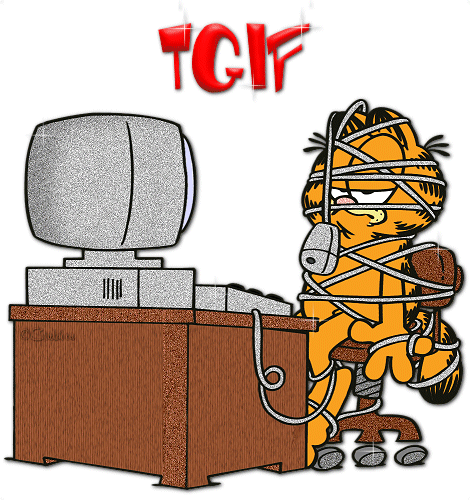 glitter-graphics.com
that's probably how i looked like for the past few days. boy am i glad that today is the last day of working woot woot!
how would you feel if you were the only lady dining with a group of men, say around 10 of 'em? and then you arrived 'fashionably late' and all of them were already there when you arrived. uh huh. so if you can't beat them, join them, right? that was exactly what happened to me yesterday where i had a
berbuka puasa
with some clients, all the way in Shah Alam. the drive to Shah Alam was hellish as getting to NKVE itself was an adventure. at one point i wondered what's left of my
pahala puasa
. tsk tsk. i secretly wish a magical creature of some sort would transform my CLK into a flying machine or something. so i left the office at about 4.45 p.m. and was still at
Pekeliling
at 5.45 p.m. gaaaaah! when i finally entered NKVE (thank God for Smart Tag) i tried to
pecut
but a CLK can only
pecut
so much and many cars zoom past by me as if they were the only ones wanting to
berbuka puasa
. pfft. i thought there's no way am i gonna be able to make it on time for
berbuka
but luckily i did.
so was the spread worth it? definitely! heck, they better be, after the torturous journey i had earlier. they have sushi, salad, salmon, oyster,
sup daging rusa,
spaghetti, roast lamb,
segala macam nasi
and
lauk
, fried koay teow, chicken rice, laksa,
mee sup, ikan bakar
,
bubur lambuk
,
popiah, satay
etc. desserts was nice too and definitely better than JW Marriot. unfortunately i didn't eat that much.
kena la
control cun
jaga personaliti
, no?