it is almost 4 in the morning and here i am blogging. i am sleepy yet i couldn't sleep. i can't sleep, unless and until i have finished packing my bag. i will be leaving for Jakarta (again) later at 440pm. that means i have approximately 12 hours. as much as i love to travel, i really hate the packing part. gosh. i've started packing since 130am yet it's still not done until now. the reasons being, one minute i'm folding the clothes, the next minute i would lie down and play with my phone. one minute i'm refilling my toiletries bottles, the next minute i would try on shirts, thinking which top to wear and whatnot. one minute i'm sorting out the undies, the next minute i would
add apps on Facebook
lie down on my bed (again) and
layan
the lovey dovey songs on lite n ez. you get the picture. how hard is it to pack for a 4days3nights trip, right? i wanted to travel as light as possible as i am very sure a lot of
damages
shopping will be done so i have to minimize the amount of clothes. besides, i will be flying the "no-frills flight" which limits the luggage weight at 15kgs (only?). just when i thought i've finished packing, that's when i remembered the knick knacks such as earrings, tissue papers, hand sanitizer, cotton buds, facial cotton and the list goes on.
now where the hell did i put those padlocks. and my passport. and which shoes should i wear? there will be a lot of walking so i need a good pair. perhaps i should bring along a slipper just in case it rains. damn it. who says traveling is fun?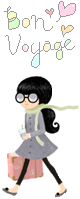 not to forget,
selamat menyambut Maulidur Rasul
to all
Muslims.
selawat ke atas junjungan Nabi Muhammad s.a.w.